Event Registration
Run for the Ta-Tas
Description:
ONLINE REGISTRATION IS NOW CLOSED
PLEASE REGISTER:
FRIDAY, OCTOBER 5 at 3PM-7PM at TRYSPORTS at MAYFAIRE
SATURDAY, OCTOBER 6 at 7AM-7:30AM at THE RACE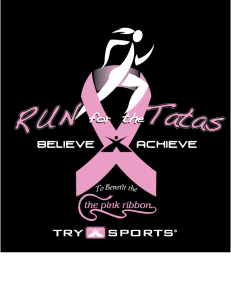 Race for CASH. Run for PRIZES. Walk to FIGHT CANCER.
CASH PRIZES - TEAM AWARDS - GIVEAWAYS
&
SPECIAL BREAST CANCER SURVIVOR SHIRTS & AWARDS
NEW THIS YEAR
-Team Awards for Biggest Team, Most Spirited Team, Fastest Team
-Awards for fastest Breast Cancer Survivors
-Special Race Shirts for Breast Cancer Survivors
-Sign the Memory Wall at TrySports to honor loved ones
-Specialized Race Bibs for Survivors
Proceeds Benefit The Pink Ribbon Project

Since its inception in 1998, the Pink Ribbon events and donations have raised more than $1.5 million to provide funding for mammography screenings, early detection of breast cancer and Comfort Bags for women in
community.
Proceeds from Pink Ribbon Project provide funding for local women, without health insurance or other financial
resources, to receive mammography screenings at one of five (5) approved NHRMC regional sites. On average,
the Pink Ribbon Project funds more than 700 mammography screenings each year as well as funding for any
diagnostics that may be required for a suspect result.
Donations to the Pink Ribbon Project have also funded the purchase and distribution of over 5,000 Comfort Bags
to area women as they undergo cancer treatment. Distributed by the NHRMC Zimmer Cancer Center and area
physician groups, the Pink Ribbon Comfort Bags are designed to bring comfort to women as they traverse
through their cancer journey… from diagnosis to treatment.
Type of Race
5K Chaser Race & 1 Mile Walk
Only type of this race in the Region!
Date of Race
Saturday, October 6, 2012
Start Time of Race
8am
Women start at 8am
Men start at 8:02:30am and Chase the Girls!
Walkers start at 8:05am
Location of Race
TrySports Field at Mayfaire Town Center
925 Town Center Drive
Wilmington, NC 28405
About this Race
Run for the Ta-Tas is a 5K Race and 1-Mile Walk. But this is not the typical race. It's a Chaser Race and is one of a kind in the region! In this unique race format, female participants start first, giving them a head start over the men. Male participants start exactly two minutes and 30 seconds after the females (hint on the name: Run For the Ta-Tas.) The first participant to cross the finish line, male or female, wins $1000 Cash. Proceeds benefit The Pink Ribbon Project.
Race Entry Fees
5K Run
$30 until September 21, 2012
$35 starting September 22 - Day of Race
1 Mile Walk
$20 until September 21, 2012
$25 starting September 22 - Day of Race
*T-Shirts are guaranteed to those who register by September 21
Awards
Cash Prizes will be awarded to Overall Winners. Awards will also be given to Top 3 in Age Group.
Packet Pick-Up
Friday, October 5, 2012
3pm-7pm
TrySports at Mayfaire Town Center
925 Town Center Drive
Wilmington, NC 28405
Waiver
I know that running/walking/obstacles in a road race is a potentially hazardous activity. I should not enter and run/walk/obstacles unless I am medically able and properly trained. I agree to abide by any decision of a race official relative to my ability to safely complete the obstacle run/walk. I assume all risks associated with running/walking/obstacles in any Go Time! events by Hackman Events LLC. This includes - but not limited to - falls, contacts with other participants, the effects of the weather including high heat and/or humidity, low temperature, traffic and conditions of the road, all risks being known and appreciated by me.
Having read this release and knowing these facts and in consideration of your accepting my entry, I,for myself and anyone entitled to act on my behalf or on behalf of my estate, waive and release GO TIME, HACKMAN EVENTS LLC, TRYSPORTS, MAYFAIRE TOWN CENTER, RUN FOR THE TA-TAS, MICHELLE HACKMAN, COLIN HACKMAN, the officers, Board, Board members, agents, servants, employees, and their successors and assigns of each and every of the above from all claims or liabilities of any kind arising out of my participation in the run/walk even though the liability may arise out of negligence or carelessness on the part of the persons referred to in this waiver.
I also grant permission for the use of any photographs, motion pictures, recordings or any other record of my participation in this event for any legitimate purpose. I understand that if the race is canceled because of circumstances beyond the control of the race committee and sponsors, incluing, but not limited to unsafe weather conditions or governmental ban, my entry fee will not be refunded.