Event Registration
Canine 5K
Description: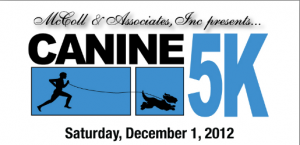 Date of Race:
Saturday, December 1st
Time of Race:
8:00 AM
Location of Race:
TrySports Field - Mayfaire Town Center
925 Town Center Dr.
Wilmington, NC
Type of Race:
5K and 1 Mile Walk
Description of Race:
Come run with your best canine friend or opt to run solo at the McColl & Associates, Inc.'s Canine 5k. This is a flat fast course around Mayfaire Town Center. There is a limit of one dog per person. The dog must be at least 6 months old, must be up to date on vaccinations, well-trained, well-behaved, and must be kept on the leash at all times. Leashes may not be longer than 6 feet and may not be a retractable leash. Please also avoid participating if your dog is in heat. Thank you! Proceeds benefit the Karma Foundation.
Race Fees & Dates:
5K
$25 through November 20th
$30 starting November 21
1 Mile "Turtle Crawl"
$15 through November 20
$20 starting November 21
Packet Pick-Up:
Friday, November 30
4pm-7pm
TrySports at Mayfaire Town Center
Awards:
Top 3 Dog/Human Teams
Top 3 in Age Groups ( 10 & Under, 11-19, 20-29, 30-39, 40-49, 50-59, 60 & Up)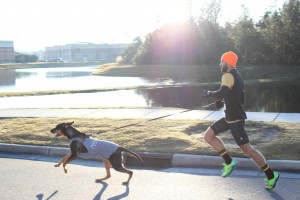 Waiver
I know that running/walking/obstacles in a road race is a potentially hazardous activity. I should not enter and run/walk/obstacles unless I am medically able and properly trained. I agree to abide by any decision of a race official relative to my ability to safely complete the obstacle run/walk. I assume all risks associated with running/walking/obstacles in any Go Time! events by Hackman Events LLC. This includes - but not limited to - falls, contacts with other participants, the effects of the weather including high heat and/or humidity, low temperature, traffic and conditions of the road, all risks being known and appreciated by me.
Having read this release and knowing these facts and in consideration of your accepting my entry, I,for myself and anyone entitled to act on my behalf or on behalf of my estate, waive and release GO TIME, HACKMAN EVENTS LLC, CANINE 5K & 1 MILE TURTLE CRAWL, MCCOLL & ASSOCIATES, COLIN AND MICHELLE HACKMAN and all sponsors of the race, any other persons assisting with the race, the officers, Board, Board members, agents, servants, employees, and their successors and assigns of each and every of the above from all claims or liabilities of any kind arising out of my participation in the run/walk even though the liability may arise out of negligence or carelessness on the part of the persons referred to in this waiver.
I also grant permission for the use of any photographs, motion pictures, recordings or any other record of my participation in this event for any legitimate purpose. I understand that if the race is canceled because of circumstances beyond the control of the race committee and sponsors, including, but not limited to unsafe weather conditions or governmental ban, my entry fee will not be refunded.