Event Registration
Blue Ribbon Run, 2014
Description:
BLUE RIBBON RUN
Register on March 23-27
and pay only $20
This event is in celebration of two Wilmington moms, Julie M. Brown and Christina Gianoplus. Both lost their battles to colon cancer in 2011 at the young age of 41. We honor them by raising awareness to prevent colon cancer and raising funds to find a cure for this disease.
Visit www.TheBlueRibbonRun.com for More
DATE OF RACE:

Saturday, March 29, 2014
TIME OF RACE:
4:00 pm
LOCATION OF RACE:
Autumn Hall
1202 Eastwood Road
Wilmington, NC 28403
TYPE OF RACE:
5K and 1 Mile Walk
DESCRIPTION OF RACE:
According to the American Cancer Society, colon cancer is the third most commonly diagnosed cancer and the third leading cause of cancer death. March is colon cancer awareness month! Help make a difference as proceeds for this race will go to the Fight Against Colon Cancer. The Blue Ribbon Run is in celebration of Wilmington resident Julie Brown who died from stage 4 colon cancer at age 41. She was diagnosed in May 2011 and died in September 2011.
RACE FEES:
*Register on March 23, 2013 after the race and pay only $20*
5K
$25 through March 10
$30 starting March 11
1 Mile Walk
$15 through March 10
$20 starting March 11
In Spirit Runner
$20 Preregistration Only - Support the cause, get the T-shirt, save on actually having to run/walk.
T-shirts guaranteed only to those who preregister by March 10!
PACKET PICK UP:
TBA
AWARDS:
Overall Male, Female, and Master Finishers
Top 3 in age group
Giveaways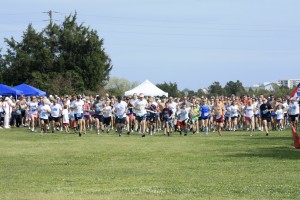 WAIVER:
I know that running/walking/obstacles in a road race is a potentially hazardous activity. I should not enter and run/walk/obstacles unless I am medically able and properly trained. I agree to abide by any decision of a race official relative to my ability to safely complete the obstacle run/walk. I assume all risks associated with running/walking/obstacles in any Go Time! events by Hackman Events LLC. This includes - but not limited to - falls, contacts with other participants, the effects of the weather including high heat and/or humidity, low temperature, traffic and conditions of the road, all risks being known and appreciated by me.
Having read this release and knowing these facts and in consideration of your accepting my entry, I,for myself and anyone entitled to act on my behalf or on behalf of my estate, waive and release GO TIME, HACKMAN EVENTS LLC, BLUE RIBBON RUN, COLIN AND MICHELLE HACKMAN and all sponsors of the race, any other persons assisting with the race, the officers, Board, Board members, agents, servants, employees, and their successors and assigns of each and every of the above from all claims or liabilities of any kind arising out of my participation in the run/walk even though the liability may arise out of negligence or carelessness on the part of the persons referred to in this waiver.
I also grant permission for the use of any photographs, motion pictures, recordings or any other record of my participation in this event for any legitimate purpose. I understand that if the race is canceled because of circumstances beyond the control of the race committee and sponsors, including, but not limited to unsafe weather conditions or governmental ban, my entry fee will not be refunded.