Great Strides 5k
Watch the finish of the race!  The race clock is super-imposed so you can check your times.
Update (May 1st, 2011):
Great weather, a great course, and great prizes has helped the Great Strides 5k continue to grow in spite of competition from other area races.  Some of the fastest folks in town showed up to help raise money for the Cystic Fibrosis Foundation including reining Mid-Eastern 4A Conference Cross Country Champion Zach Nifong from Laney High School.  But Nifong, running with his coach Sam Bobbit, used the race as a pacing drill – and finished together in 3rd and 4th place at (17:35).
It was adult standout Clint Henry (17:01) who took the tape yet again in the 2010-2011 season adding to his list of victories including the Riverfest Run 8k and the PPD Ho Ho Holiday 5k.  Close behind were Mark Kauffman (17:24), Eric Torrey(18:01), Andres Duque (18:08) and Shawn McKee(18:13) who won an 8:00 am 10k at Wrightsville Beach and quickly made it to the Great Strides line to try for the double.
On the ladies side Alison Reid (22:35) bested the field that included tough competition from Leah Crider (23:10) who finished second and Ashley Lee (24:21) in 3rd.
(April 30th,2011)
The Great Strides Walk & 5k Run is Saturday, April 30th, at Try Sports Fields in the Mayfaire Town Center.
Go Time is happy to announce partnering with Great Strides --  the Cystic Fibrosis Foundation's largest and most successful national fundraising event.
What: Great Strides Walk & Run 5k
Results: http://its-go-time.com/results/great-strides-2011-walk-5k-run-results
When: April 30th – Registration 8:00am, Gun 9:00am
Where: Trysports Field – Mayfaire Town Center.  925 Town Center Drive, Wilmington, NC 28405
Web: Wilmington Great Strides Walk And 5k Run's Great Strides Home Page
Facebook: Great Strides 2011 Walk & 5k Run
Register Now:  Great Strides Walk & 5k Run Registration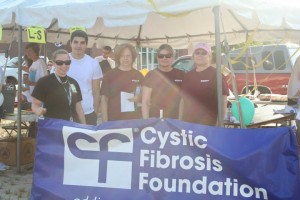 Go Time is stoked to help with timing solutions for the Wilmington Great Strides Event.  Cystic fibrosis (CF) is a devastating genetic disease that affects tens of thousands of children and young adults in the United States.
Research and care supported by the Cystic Fibrosis Foundation is making a huge difference in extending the quality of life for those with CF.
However, we continue to lose precious lives to CF every day.  That's why your help is needed now more than ever to ensure that a cure is found sooner, rather than later.
We can't wait to see you at Trysports Mayfaire!