Race report – Landsford Canal 50k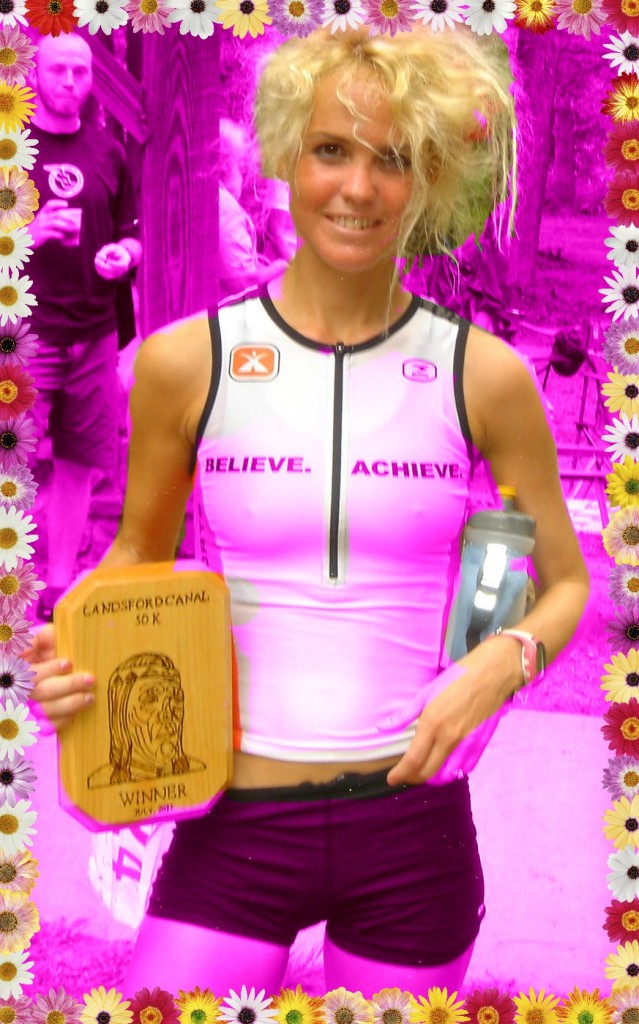 I found this race on the ultrarunning.com site's calendar. I'm always looking for good local ultras so this one fit my criteria really well.  After a veggie wrap and some yogurt covered pretzels for dinner at Earthfare, I went to bed around 9:00, typical Friday night.
Alarm went off at 4:30 and I woke up foggy after a banana and some caffeine, I was ready to go.  Left at 6:00a for the 7:00a start and began my short 25 min. drive to the Landsford Canal State Park.  I was driving about 60 mph when the two lane road I was on turned to one. I saw something quickly approaching my headlights and realized I was headed straight to a previously run over HUGE dead deer sprawled across the road. I panicked in my head but was way too close to avoid it. I hit it dead on but surprisingly the Subaru and I survived.  A few miles down the road we made the left turn into the park. Once I arrived I ate a Luna bar and began filling up my Heed bottles and putting some extra fuel and a towel in a bag near the course.  The weather was awesome, 65 degrees I think it was at the start.
I love the vibe of longer distance races. I would even hesitate to call it a "race" because there is such little similarity between the start of a 5k and a 50k. There's a certain calmness that promotes a personal focus that allows you to collect your thoughts and prepare for the distance you are about to partake. That feeling, at least for me, does not exist at your local 5k. While there are exceptions to every rule, this race began with the loudest explosion I have ever heard. The only time I have ever seen runners freeze when the gun was fired.  But this was no ordinary track gun, no, Claude Sinclair has just shot off a cannon. And from here I started the race shaking from a cannon induced shock and a ringing in my ear.
The race started with the small out and back which was a super tough mile climb which out the way back turned into a hell of a decline, definitely enough to get your heart rate fired at a rather uncomfortable level.  We are now back to the start then turn around and do the hill again this time passing the turn around and continuing straight on the big loop.  The next 2.50 miles are rolling with the last .25 was a decline onto the canal trail.   By the third loop I couldn't wait to get passed the 2.75 miles of rocky hilly hot pavement and onto the 1.5 miles of soft flat cool ground right on the water.  Of the seven laps I realized I was getting into a system drinking one bottle of Heed every two loops.  My fuel consisted of 3 GU Roctane gels, the first at mile 12 and then every 6-7 miles after that.  The 7 loops might sound redundant but I actually prefer it. I like counting down the loops like a game, knowing exactly what to expect and where to put your energy, also challenging yourself to run the next loop faster is can be a head game.  I really appreciated being able to change out bottles and grab gels without hauling it entire way. Hearing people cheer you on, taking pictures and being able to show off every 4.25 miles is pretty awesome and seems to refresh you before taking on the next loop.  Although I have never had digestive issues I know people who have and really appreciate the availability of a restroom, sometimes it could mean the difference of finishing.  For me there wasn't a bad loop, the more tired my body got the more excited my mind got so it really balanced out nicely to where my loops were nearly identical in time. The finish was just as relaxing as the start, just hanging out with the 4 guys that had already finished talking about what races we had done and what races were coming up.