Saturday May 11, 2013
Ashley High School Track
Benefiting NHCS Staff and Student Wellness 
8:00 am Gun – Weather – 68F, Cloudy
Photos
Age Group Listings
Team Awards
Team Awards are for the fastest 4 runners on each team.
Overall Fastest:
1st Speedy Cats
2nd Williston Tigers
3rd Gregory School
Biggest Team:
Codington Elementary-  83 participants
Spirit Award:
Anderson Elementary 'Sailors'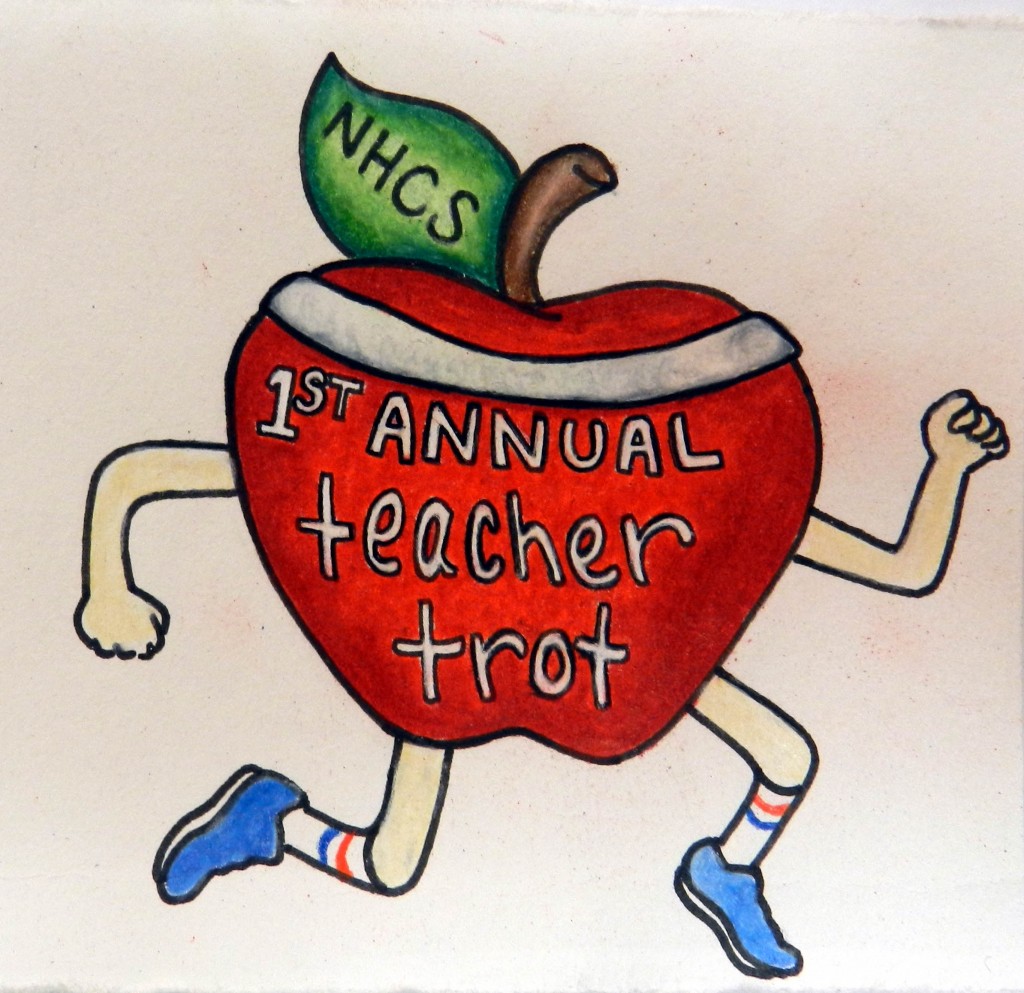 Presented By
New Hanover County Schools

A United States of America Track and Field Association Sanctioned Event
DATE OF RACE:
Saturday, May 11
TIME OF RACE:
8 AM
LOCATION OF RACE:
Ashley High School Track
555 Halyburton Memorial Pkwy
Wilmington, NC 28412
Course Map
TYPE OF RACE:
5K
DESCRIPTION OF RACE:
The inaugural NHCS Teacher Trot is geared to encouraging students, staff and entire community wellness. This event is not only a 5K for the entire community, but a chance to celebrate the completion of the Couch to 5K program for school staff members. As a school system, we want to motivate and encourage the entire community to be more active on a daily basis. The proceeds of this 5K will provide schools with much needed funding for both student and staff wellness initiatives.
RACE FEES:
Prior to May 9: $25
Race Day: $30
New Hanover County School Students: $15
RACE SHIRTS:
Race Shirts sizes include Adult and Child sizes.
PACKET PICK-UP:
Friday, May 10
4pm – 7pm
Omega Sports Store
Saturday, May 11
7am – 7:40am
At the Race Site
AWARDS:
Top 3 Overall Male & Female Finishers
Top 3 in Age Groups: 9 & Under, 10-14, 15-19, 20-24, 25-29, 30-34, 35-39, 40-44, 45-49, 50-54, 55-59, 60-64, 65-69, 70+
Top 3 Overall Teams
Best Team Spirit
Most Team Participation
RULES & GUIDELINES:
The Waiver & Liability Form is attached to the Online Registration. This must be checked and approved to participate.
Online Registration closes May 9. On-Site Registration will be available at 7am -7:40am day of the event at the race site.
I.D. required to pick-up race packet