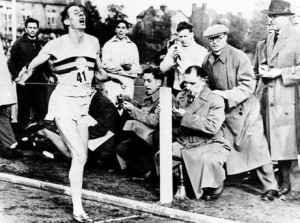 The mile. The word itself conjures romantic images of legends from yesteryears. Perhaps it's the iconic photograph of Roger Bannister, head tilted back, eyes closed, arms pumping… about to break the string. As genteel men in long overcoats, kneeling on the infield grass press thumbs down onto the top of stopwatches… forever recording history being made.
Or in the era of color TV… it's world record holders like John Walker, Steve Scott, Mary Decker, Paula Radcliffe… racing at break neck speeds through the heart of New York City in the Fifth Avenue Mile.
The mile is perhaps the perfect mix of raw, animalistic speed combined with the pre requisite endurance needed to sustain a blistering pace. A race where tenths, and perhaps hundredths of a second do matter. A race where there is nowhere to hide, there is no faking it. But it's a race that rewards handsomely those who refuse to give in or compromise. Runners who are not afraid to stare into the abyss… can become their own heroes. And inspire others who dare to watch, to do the same.
On April 11th, runners will get the opportunity to race the mile in downtown Wilmington, NC. The inaugural Parade Mile will be held in conjunction with the area's annual Azalea Festival. Runners of all abilities can compete in one of several heats, in front of tens of thousands of spectators lining the parade route.
It's a golden chance for anyone to test their own mettle and resolve on a big stage. And hopefully to bask in the kind of athletic glory rarely afforded to the everyday runner.